Caribou Highland Hotel

[mappress mapid="70″]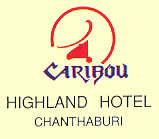 Caribou Highland Hotel offers first class accommodation, travel services and tours in the beautiful Chanthaburi city of eastern Thailand close to the Gulf of Thailand sea.
The hotel provides fully furnished, clean and good quality guest rooms, restaurants and coffee corner, a swimming pool, business facilities, tours and transport services. Our friendly hotel staff provide their best assistance to make your stay a memorable trip to Chanthaburi. The hotel is 230 km from Bangkok by car road.
Chanthaburi province itself is an interesting province. There are national parks with waterfalls and forested hills good for nature walks, hiking, camping and white water rafting; historical monuments, traditional cultures of the old days, temples and pagodas of various religions, gem markets, plenty of delicious tropical fruits good for your health, sea beaches and ocean islands, Thai – Cambodia border market, and so on.
Caribou Highland Hotel
14 Chawana-Uthids 3, Chawana-Uthids Road
Amphur Muang, Chanthaburi 22000. Thailand.
Phone: +66-39-323 431 – 5
Fax: +66-39-321 584
Email: [email protected] , [email protected]