One of the famous beach in Thailand – Laem Mae Phim Beach in Rayong, Thailand. The sea water and the beach is clean, the sand is in gold white color. Most of the weekend, many visitor from Bangkok to here for holiday and rest. They like to enjoy the seafood beside the beach and playing water and banana boat.

[mappress mapid="53″]
There are not much population in here and no any factory nearby here, that's why the beach is not being pollution yet. There are one row of seafood restaurant between the road and the seaside. Most of them using fresh seafood that still swimming in the aquarium. You can choose whatever seafood that inside the aquarium as you meal. The price here is something like Bangkok Price. Most of the restaurants are building up using wood and like Thai-style.
Here are the seafood prices there.
Big Scrimp + Mihun = 400 Baht
Pla ka pong ( Fish ) = 350 Baht
Tom Yam Seafood (Small) = 120 Baht
Rice = 15 Baht x 2
Water = 12 Baht x2
But it can't be finish by 2 person, it is recommended you go with more than 4 people. You can enjoy the seafood while watching the sea-view. So it is worth to pay a visit there.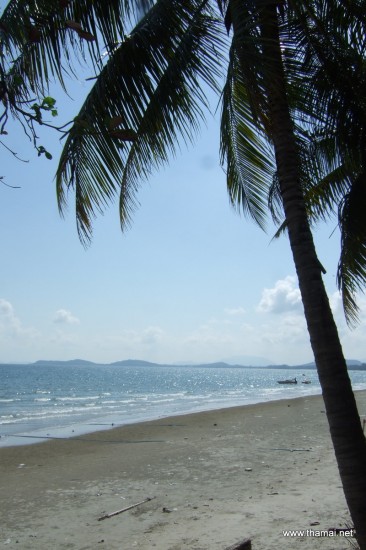 Sorry that the photo do have a black shadow on the left, because the dust go into my Fujifilm F31fd. I have no way to clean it out. Please let your friends know too that Thailand do have more places to visit.
Some people searching for:
laem mae phim
holiday
Laem Mae Phim beach
mae phim
meatvoo